Section Title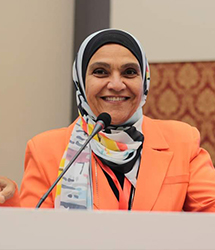 Nashwa Foad
Dr Nashwa Foad
MD , PCC.
Dr Nashwa is a graduate of the Faculty of Medicine – Ain Shams University 1988, Clinical Nutritionist with over 15+ years of experience in her field. Additionally, she is certified from the International Coaching Federation (ICF) as a Certified Health Coach/PCC.
Developer and Instructor of the first ICF Certified Health and Wellness Coaching program in MENA She is a Lecturer in the National Nutrition Institute.
The story began in 2004, where Dr Nashwa started her consultation for people who need to lose weight through healthy nutrition and sports. But after 10 years in this journey, specifically in 2015, Dr Nashwa got certified from the ICF as an Emotional Eating Coach.
Dr Nashwa was the first clinical nutritionist who was able to introduce the lifestyle modification using behavioral change science in Egypt. As she believes that nutrition is one of the pillars of lifestyle.
Also, she was the first to introduce Cancer Coaching as a branch of Health Coaching to support Cancer patients and Caregivers through their journey.
Starting 2020 she started graduating the first Health & Wellness Coaches in MENA.
Dr Nashwa's vision in is to educate, support and empower people that want to make a difference in people's health using Health Coaching.