Section Title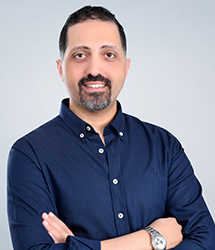 Baher Hendawy
ICF Certified Life Coach
Qualified Professional Trainer (TOT)
Accounting Manager with more than 15 years' experience in telecommunication sector
Leadership, Management and leaders preparation Expert
Specialized in leadership/career/spirituality/well-being Coach
Hold certificates in the areas of Situational Leadership, Presentation Skills, Emotional Intelligence, Personnel effectiveness, Assertiveness, persuasion & influencing people, visual thinking and mind mapping and how to cope with changes.
Completed a life coaching training program that centered on subjects such as organization behavior, relationships, decision-making and ethical responsibilities.
Having the needed experience, skills and abilities to help clients:
• Achieve both their professional objectives and their personal goals.
• Perform self-assessments that will allow them to solve their problems.
• Get their life back on track when circumstances have caused them to stray in the wrong direction
• Understand what is going on in their life, so they are more willing to make the changes needed to get back on track.
• Think outside of the box to find the best solution to their problems.
Have experience using communication skills that include active listening, problem solving skills in monitoring and evaluating client progress to make sure they continue on the right path. This also allows me to offer extra guidance when needed.
Coaching methods
Face to Face, Workshop / Seminar, Virtual, Webinar
Career Coaching, Leadership, well-being Coach